Overview of WordPress for Newbies
THE DASHBOARD. The admin area of your website is known as the WordPress dashboard. Please note that all you need to manage your site is on the menu on the left.
PAGES VS POSTS. WordPress has two main kinds of content, Pages and Posts. Any items that show up on your main menu, including galleries, are Pages. Posts, by contrast, are your blogs posts.
To add and edit pages, click [Pages]. Click the name of a page or click Add New. Add a title, content, or images. You can also create a gallery, by clicking New Photocrati Gallery. Click Publish and the page will appear on your menu.
To add and edit blog posts, click [Posts] on the left. Click the name of a post or click Add New. Add a title, content or images. You can also add galleries to your posts by clicking New Photocrati Gallery. Click publish and the new post will appear on your blog.
WIDGETS. You add content to your blog's sidebar by going to the [Widgets] page and dragging widgets to the sidebar. The Photocrati theme also allows you drag widgets to your footer.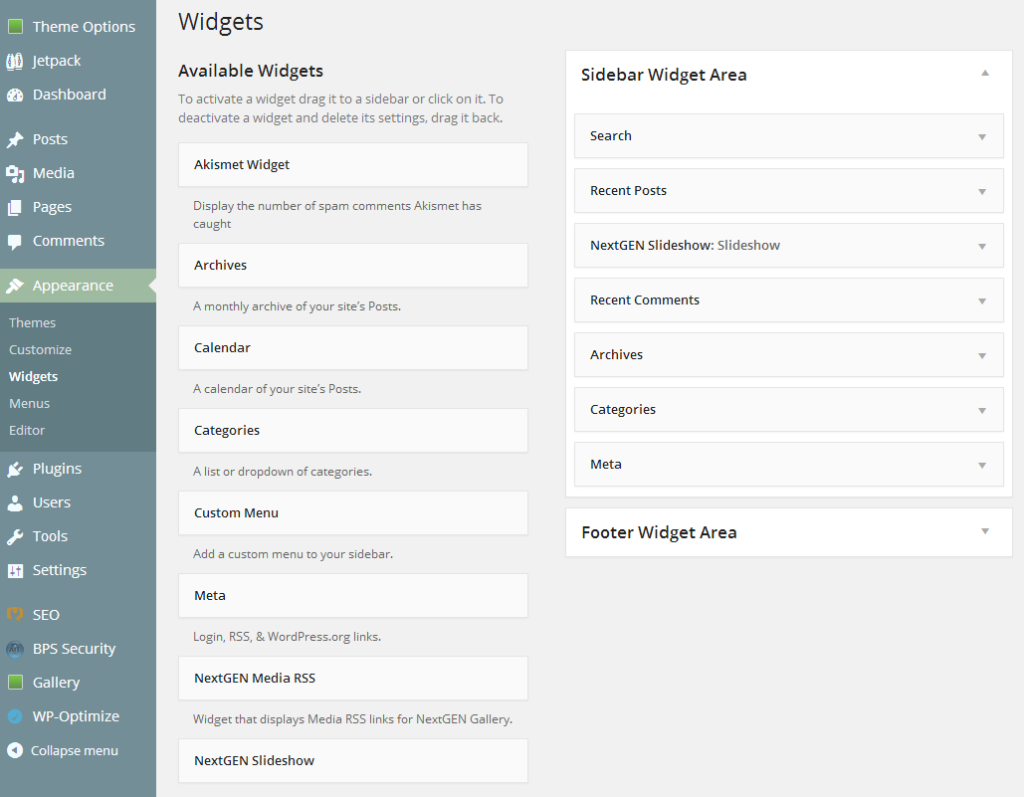 SETTINGS. You can change your site title, change how your site's URLs appear, and change other important settings by clicking the settings tab on the left.
PLUGINS. There are thousands of free third-party plugins you can add to your WordPress site. These allow you to add contact forms, integrate Twitter feeds, improve your SEO, create forums, and do hundreds of other things that are not a core part of WordPress. You can see your current plugins by clicking [Plugins]. You can search the directory of plugins on the plugins page and click Install to quickly install any plugin you see there. Once installed, most plugins will add an extra menu item somewhere on the left where you can change the settings of the plugin.
PHOTOCRATI THEME OPTIONS. All the options for customizing your Photocrati Theme, including your theme style, colors, fonts, spacing, gallery settings, and ecommerce settings, are found under the [Theme Options] tab on the left.

Recommended WordPress Settings
When you first log into your WordPress website, we recommend making the following changes.
1) First, set up a new username/password. Changing the admin password and setting up an easy-to-remember username and password for yourself. To change the admin password, go to Users and click on "admin" and set your new password using the prompts near the bottom of the page.
To set up a separate additional username and password for yourself, go to Users > Add New. Enter your preferred username and password. Be sure to set your "Role" to "Administrator." Then click Add User. Note that whatever username you choose in WordPress will show up as the author of your blog posts, so choose carefully!
2) Second, set the title of your site. Go to Settings > General and change your Blog Title and Tagline to what you like.
3) Third, change your default URLs ("permalinks") for good Search Engine Optimization. Why? By default, your blog post links will be ugly, something like http://example.com/?p=N. You can change this so each post will instead have a url like: http://example.com/post-title. These look nicer, are easier to remember, and are better for search engines. Go to Settings > Permalinks. Click "Post Name" which will give you URLs that look like this: www.yourdomain.com/sample-post. Then save changes.